I just found this community and thought I'd share the huge road trip I went on this summer with my boyfriend.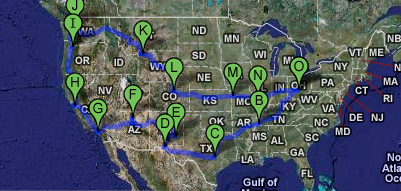 This was the route and we stayed true to it for the most part.



We only slept in hotels in San Francisco (for a week) and once in Wyoming and once in Texas (San Antonio). The rest of the time we slept in WalMart parking lots in the back of our SUV which had a futon mattress. Each night we had to transfer all our stuff to the front. Some nights it was unbearably hot. But, it was all worth it. We saw so much.

I took photos with both my Canon Rebel and Holga. I'll post my Holga Photos here and give you guys a link to my digital ones.




My digital photos can be found here and our road trip blog can be found here.

Thanks! I look forward to more travel and reading about your travels!